Young woman getting acupuncture treatment in therapy room
BODYTALK-275x300-mudeznqnjyrgvi4c5aojskt7nzqovcta0ogushcytg
BodyTalk
The BodyTalk System seeks to address the "whole person."  No aspect of the human psyche can be overlooked, be it emotional, physical or environmental. It is a complete healthcare system that supports and promotes the well-being of any person, animal, or plant. BodyTalk understands the profound influence the psychology of the body has on our health. Instead of focusing on the symptom, BodyTalk finds the underlying causes of illness by addressing the whole person.
pregnant-woman square
Doula / Midwife
Massage
Massage requires no introduction. It has been used as an effective therapy since ancient times. The practitioners use all different kinds of massage techniques from modern to ancient. Type of massage include Tui-na, RMT, Swedish, Thai, and Hot Rock techniques
Medium / Channeling
Hypnosis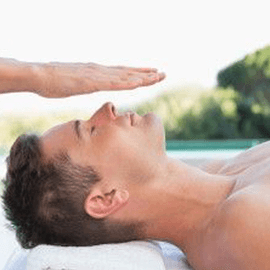 REIKI
Reiki
Reiki (pronounced "ray-key") is an ancient Japanese healing therapy that releases stress, tension, pain, through the balancing of Chakras (energy centers of the body).  This focused realignment brings a sense of flow and relaxation of the mind and body.  Reiki reduces the healing time of injuries, releases trapped emotional imbalance, and bring a sense of harmony to the body.  Unlike other therapies, Reiki can be focused directly over the area of issue and shift pain and discomfort.
Unique Modalities
Unique Modalities
Unique modalities lists various healing modalities not covered in the standard directory.
Yoga