Young woman getting acupuncture treatment in therapy room
BODYTALK-275x300-mudeznqnjyrgvi4c5aojskt7nzqovcta0ogushcytg
BodyTalk
The BodyTalk System seeks to address the "whole person."  No aspect of the human psyche can be overlooked, be it emotional, physical or environmental. It is a complete healthcare system that supports and promotes the well-being of any person, animal, or plant. BodyTalk understands the profound influence the psychology of the body has on our health. Instead of focusing on the symptom, BodyTalk finds the underlying causes of illness by addressing the whole person.
pregnant-woman square
Doula / Midwife
A doula is a trained companion who is not a healthcare professional and who supports another person (the doula's client) through a significant health-related experience, such as childbirth.
Silhouette Of A Woman In Lotus Meditation Position With Shining
Medium / Channeling
Trance Channeling or mediumship is when a practitioner is "taken over" by their own higher self or an entity for the purposes of disseminating information from the ethers.
Woman lying on couch at doctors office
Spiritual Counselling
Connecting to deeper states of consciousness and healing with Spiritual Mentoring and talk therapy.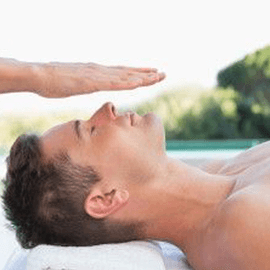 REIKI
Reiki
Reiki (pronounced "ray-key") is an ancient Japanese healing therapy that releases stress, tension, pain, through the balancing of Chakras (energy centers of the body).  This focused realignment brings a sense of flow and relaxation of the mind and body.  Reiki reduces the healing time of injuries, releases trapped emotional imbalance, and bring a sense of harmony to the body.  Unlike other therapies, Reiki can be focused directly over the area of issue and shift pain and discomfort.
Unique Modalities
Unique Modalities
Unique modalities lists various healing modalities not covered in the standard directory.
Yoga
Ancient East Indian physical stretches and poses for maintaining health of the body.
concussion Healing Toronto
Concussion Healing
Concussion healing can combine many modalities for the purpose of healing brain issues.
chakra alt square
Chakra Balancing
Chakra Balancing is a new age offshoot of Reiki using crystals and chakra points in the body.
Toronto Natural Healing Directory is a great resource to promote local alternative therapists and healers in Toronto, Canada. Please feel free to join our website with a submission below.