Massage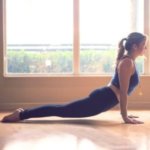 Short Business Description:
YOGA FOR
EMOTIONAL BALANCE
MENTAL FORTITUDE
PHYSICAL STRENGTH & MOBILITY
Long Business Description:
Back to the Ground Yoga is built on the philosophy that yoga is for everyone, no matter your physical ability.
Whether you're looking to gain more peace of mind or increased flexibility, strength, energy and vitality…everyone can prosper from a deeper understanding of Yoga, its postures, philosophy and teachings.
In your private session, that is tailored to you, you'll learn valuable tools to support and balance your emotions, create space in your mind, and build a practice that you can always return to for calm and reflection. You'll also learn to incorporate yogic principles into everyday life. Yoga is far more than physical postures. It is through dedication, and the full experience of Yoga; exploring asana, pranayama and meditation practices that we can begin to heal ourselves.
-Amy Rose LaPrairie, Founder
Business Address:
Toronto
M6P 1A1
Short Business Description:
Energy Shiatsu is a Holistic and Life-changing combination of Shiatsu bodywork, Reiki and Healing Touch energy, friendly and open Talk Therapy, and esoteric yet practical Life Coaching. BOOK Your Appointment ONLINE at EnergyShiatsu.com
Long Business Description:
The effects of Energy Shiatsu sessions may include:
– Remission of physical pains, stress and concerns
– Improved sleep, energy, and overall well-being
– Feelings of all-encompassing peace and calm
– Renewed confidence and sense of purpose
– Profound personal transformation
– Creative or cognitive performance boost
– Life challenges turned into ideal outcomes
– Discovery and fulfillment of own highest potential
– Inner bliss, outer luck, perfect health, life extension
By channelling the Divine Life Force through his aura and hands, the practitioner turns the work over to God / Spirit / Source / Universe — the good and purest energy of unconditional love and compassion.
Grant yourself a moment to melt away tension and stress, and renew. Repeat weekly or biweekly to recharge your mental, physical and creative performance to the peak level. It is one of the best kept secrets of top athletes, musicians, performers and business executives.
"Fall in love with taking care of Yourself, Mind, Body, and Spirit."
Business Address:
586 Argus Road, Suite #100 (South side)
Oakville, Ontario L6J 3J3
L6J 3J3